The beginning
Our story begins in 1918, with the arrival of Rufino Melero to Chile from Alsasua, Spain. He came from a family of tanners, born with the desire to found a tannery under his name, mainly supplying shoe factories in business in Chile at that time.
We have been working, innovating, and perfecting ourselves for four generations to attain the highest standards of quality. Becoming the largest tannery in Chile has not been accidental, but rather the result of hard and tireless work over four family generations who are and have been passionate about making quality leather.
Rufino Melero always conveyed the dedication that the manufacture and sale of such a noble product deserves. Since then, over years of study and experience, we have been able to develop the best tanning techniques. These are our best-kept secrets that have been transmitted and polished from one generation of our family to the next, combining our expertise of more than 100 years of leather learning with an innovative vision.
DOWNLOAD BROCHURE
150 Team Members
We have a team of more than 150 employees known for their faithful commitment and respect for the highest standards of quality in the finished product.
Passion for Quality
We are passionate about supplying good leather to our customers and a service of excellence that will enable them to understand and become immersed in this fascinating business.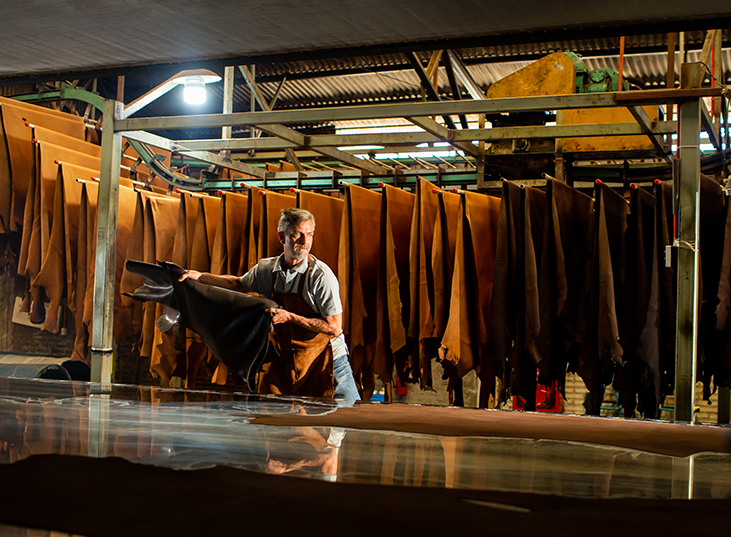 OUR VALUES
Passionate untarnished craftmanship
MELERO
IN THE TANNING TRADE FOR MORE THAN A CENTURY
Melero is a tannery that has been committed, over its 100 years, to making leather an example of ethical, social and environmental progress, of what can be done with this material when worked nobly and responsibly. Melero always works to protect its environment, its people and its community.
Proud of its experience and history of resilience, adaptability and innovation in such a remote region, Melero has stayed connected and in the know, and it is constantly developing new processes and
products that emphasize quality and raise the trade to the highest standards required nowadays.
It is an example of an impeccable tanning record marked by passion and demonstrated by the artfulness of those working with the leather, who appreciate such a diverse and noble material.
KNOW OUR VALUE